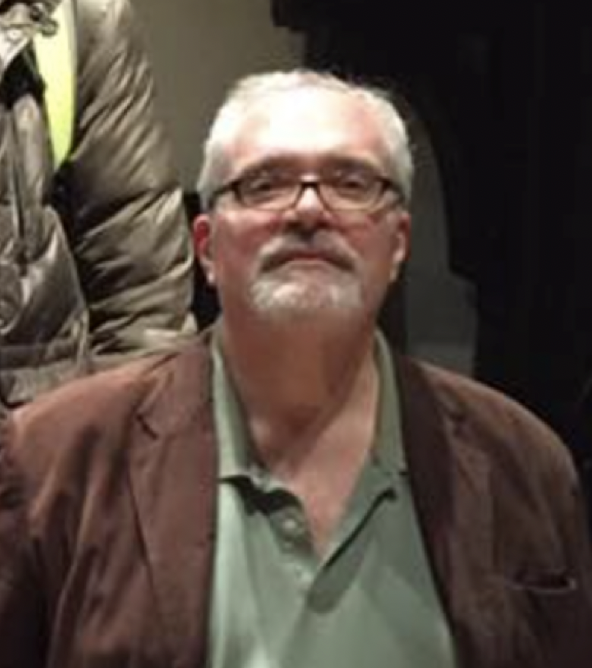 Joseph Pehrson
(August 14, 1950 – April 4, 2020)
Member from 2005-2020

Born in Detroit, Michigan, composer JOSEPH PEHRSON wrote works for a wide variety of media including orchestra and chamber works. They have been performed at numerous venues including Merkin Hall, Weill Recital Hall, Symphony Space in New York and throughout the U.S., Eastern Europe and Russia. Since 1983, Pehrson has been co-director of the Composers Concordance in New York. He studied at the Eastman School of Music and the University of Michigan (DMA 1981). Pehrson's teachers included composers Leslie Bassett, Joseph Schwantner, and, informally, Otto Luening and Elie Siegmeister in New York. As of 2008, he has written more than 14 hours of music.

Composing highlights: Belgian horn player Francis Orval requested ensemble pieces from 1987 to 1991 including Hornucopia, a piece for 10 horns, and a piece for solo horn in just intonation, Harmonic Etude, which was premiered at Merkin Hall. In 1992 and 1993, the Goliard Concerts, through recommendation of composer Eric Ewazen, performed several pieces in the Metropolitan New York area, in Warwick, NY and on a tour of southern states. They also requested a new piece, Pehrson's humorous Confessions of the Goliards for tenor and chamber ensemble. Starting in 1992, flute player Gerardo Levy of New York University presented Pehrson's Etheroscape for 8 flutes biannually with his students and requested a new ensemble piece Forest of Winds. He also asked for two new solo pieces. In 1998 Pehrson's Exhilarations for clarinet, cello and piano was the winner of a competition by the Chicago Ensemble and was performed at the Three Arts Club in Chicago. Pianist Jeffrey Jacob took an interest in Three Pianopieces in 1998, performing the piece in Ohio and Germany and later recording it professionally.

Again through Ewazen, the St. Luke's Chamber Ensemble requested a new chamber work, Pehrson's Trumpet in a New Surrounding which was performed at the Dia Arts Center in 1997. Pehrson had a May 1997 residency at the University of Cincinnati College-Conservatory of Music where his Fuoco for Brass Quintet was performed. Pehrson's ensemble piece Wild, Wild West was requested and performed by Liviu Danceanu's Archaeus Ensemble in Romania and Moldova in 1997, 1999 and 2004. Several works in unusual tunings have been featured on Johnny Reinhard's American Festival of Microtonal Music continuously since the 1980's.

In 2001 and 2003 Pehrson traveled to Russia for a series of concerts arranged by composer Anton Rovner. In 2005, organist Carson Cooman premiered Pehrson's Organum for solo organ and the work was performed in Russia at the Glinka Museum by Kirill Umansky as part of the Moscow Autumn Festival. In April, 2006, Peter Jarvis and April McCloskey of the "DoubleStop Percussion Duo" premiered Pehrson's Inner Voices II for percussion and near-just-intonation electronics at William Paterson College, repeating it at Connecticut College in December, 2006. Pianist Juny Jung performed Three Pianopieces in Weill Recital Hall of Carnegie Hall, May, 2006. Flautando for flute and guitar was presented by the New York Composers Circle in June, 2006. Victoria and Robert Paterson's American Modern Ensemble presented Levitations for viola and piano, October, 2006. In 2007 several works were presented in conjunction with the retirement of composer Dinu Ghezzo from NYU. There were also two woodwind quintets premiered: one in an unusual tuning by the American Festival of Microtonal Music and another more conventional work by the Composers Concordance.

Pehrson visited St. Petersburg and Moscow, Russia, in March 2008 for a series of concerts. In St. Petersburg, he participated in a Festival "From the Avant Garde to the Present Day," with a new piece Quixoddities based upon Cervantes' Don Quixote for piccolo and bassoon, performed by Mikhail Pobedinsky with bassoonist Maxim Karpinsky at the "House of Composers" in St. Petersburg (March 19, 2008). Linda Past-Pehrson also danced to three electronic pieces in alternate tunings as part of this festival at the "Smolny Institute." In Moscow, he had five pieces presented at the "Jurgenson Salon" on March 22, 2008: The day before, March 21, 2008, Linda Past-Pehrson danced to six electronic pieces in alternate tunings at the "Fireplace Hall" of the "Central Building for Workers of Art, (TsDRI)."Pehrson has works recorded on Capstone and New Ariel CDs and many pieces are published by Seesaw Music, Corp., now a division of Subito Music.