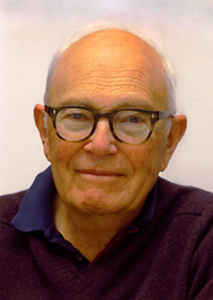 Ezra Laderman
(June 29, 1924 – February 28, 2015)
Honorary Member Since 2015

EZRA LADERMAN's compositions range from solo instrumental and vocal works to large-scale choral and orchestral music. His eleven string quartets and his concertos for piano, violin, viola, cello, flute, string quartet, and double winds are notable contributions to the repertory. He has also written music to the Academy Award-winning films "The Eleanor Roosevelt Story" and "Black Fox", and an opera based on the life of Marilyn Monroe. Laderman incorporates a lyrical style into a contemporary context, using tonal material in combination with atonal elements and seeking out unusual formal structures for his compositions. His writing has evolved over the years in that the music, although rigorously conceived, speaks with immediacy and accessibility.

Laderman has been commissioned three times by the Philadelphia Orchestra, twice by the National, Louisville and Chicago Symphonies, as well as from the New York Philharmonic, Detroit, Pittsburgh, Los Angeles Philharmonic, Dallas, Houston, Fort Worth, Syracuse, Denver, Columbus, Albany, and New Haven Symphony Orchestras. In addition he has written for such distinguished artists as Jean-Pierre Rampal, Yo-Yo Ma, Emanuel Ax, Sherrill Milnes, Aldo Parisot, Samuel Baron, David Shifrin, Ransom Wilson, Judith Raskin, Elmar Oliveira, Erica Morini, Nathaniel Rosen, Stephen Kates, Toby Appel, Leonard Arner, Eugene List, Elana Vered, Peter Frankl, Ronald Roseman, Bernard Garfield, Murray Panitz, Julius Baker, Robert Bloom, Tania Anisimova, and Patrick Jee, the Beaux Arts, Lenox, Composers, Vermeer, Colorado, Alard, Blair, Sequoia, Concord, Juilliard, and Tokyo String Quartets, The Pittsburgh Project, and the Elm City Ensemble.

Recent premieres include Synergy for Orchestra, Quartet for Brass Trio and Piano, Interior Landscapes II for solo piano, and a Concerto for Viola and Orchestra premiered by the Berkshire Symphony. He is currently working on a series of string quartets. Albany Records is releasing much of his chamber music in an ongoing series.

Ezra Laderman was born in Brooklyn, New York, on June 29, 1924. He studied composition with Stefan Wolpe and with Otto Luening. He received his BA in 1950 from Brooklyn College, and his MA in 1952 from Columbia University. He has taught at Sarah Lawrence College and SUNY Binghamton, and directed the Bennington Composers Conference in 1967-68. In 1988 he was visiting composer at Yale, and from 1989 to 1995 he was Dean of its School of Music. As of the fall of 1996 he was named professor of composition at the Yale School of Music. He has received three separate Guggenheim fellowships (1955, 1958, 1964) and the Rome Prize (1963). After his retirement he divided his time between New Haven, Connecticut and Woods Hole, Massachusetts, where his wife, Dr. Aimlee Laderman (a lecturer at Yale) was a limnologist at the Marine Biological Laboratory.