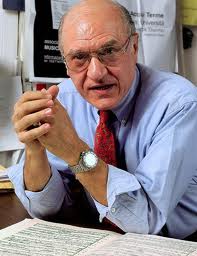 Dinu Ghezzo
(July 2, 1941 – December 10, 2011)
Honorary Member Since 2011

The New York Composers Circle mourns the loss of our honorary member DINU GHEZZO. Dr. Ghezzo received his education in theory and conducting (1959-64), and in composition (1961-66), at the Romanian Conservatory in Bucharest, and subsequently earned a Ph.D. in composition at the University of California, Los Angeles (UCLA), in 1973.

A composer, conductor, lecturer, and performer, Dr. Ghezzo was a professor of music at New York University. In addition to his activities at NYU, Dr. Ghezzo was an associate conductor of Constanta Symphony Orchestra and Oradea Philharmonic (Romania), director of Constanta International Music Days and of The Week of American-Romanian Music in Oradea (Romania), director of the International New Music Consortium (INMC) Inc. (formerly known as American New Music Consortium), founder & past director of Gubbio Festival (Italy), and a member of the advisory board of The Yard, Inc. on Martha's Vineyard, MA.

His works have been performed throughout the United States, at Lincoln Center, Carnegie Recital Hall, Merkin Concert Hall, Symphony Space, Monday Evening Concerts – Los Angeles, the ISCM Concert series in NY and LA, ASUC & ISC Programs, at the Contemporary Music Forum, Washington DC., at UCLA, SMU-Texas, Univ. of Illinois-Urbana, Univ. of Michigan-Ann Arbor, with the Guild of Composers, NACUSA Series in NYC and Los Angeles, etc. He had appeared as guest composer, performer, conductor, and/or lecturer abroad in Canada (Univ. de Quebec), France (Paris Conservatory, Sorbonne, Univ. de Paris, Rennes Conservatoire, St.Germain-En-Laye, etc.), Israel (Rubin Academy in Jerusalem), Italy (RAI-Rome, Nuove Forme Sonore, Arezzo, Perugia, with Giornate Internazionali di Musica Todi, the Gubbio Festival, etc.), West Germany (WDR Cologne and Leipzig), Belgium (Royal Conservatory of Music in Brussels), Hungary (at the Hungarian Academy of Arts and Sciences), in former Yugoslavia (at the Split Summer Festival and on national TV in Zagreb), as well as in Romania, Greece, Holland, Finland, Sweden, Spain, Switzerland, and Mexico, in concerts, recitals, festivals, recordings, and broadcasts. His compositions are featured on several Orion Master Recording albums, on Tirreno GE (Italy & Switzerland), with West Deutche Rundfunk (Koln) and with Leipzig Radio, with Helsinki Radio (Finland), on several Capstone Records, as well as on the Grenadilla label.

He music is published by Editions Salabert of Paris, Editions Billaudot (France), Tirreno G.E. (Lugano, Milan, Rome), Musica Scritta, AIM (Perugia, Italy), and Seesaw Music Corporation (New York).