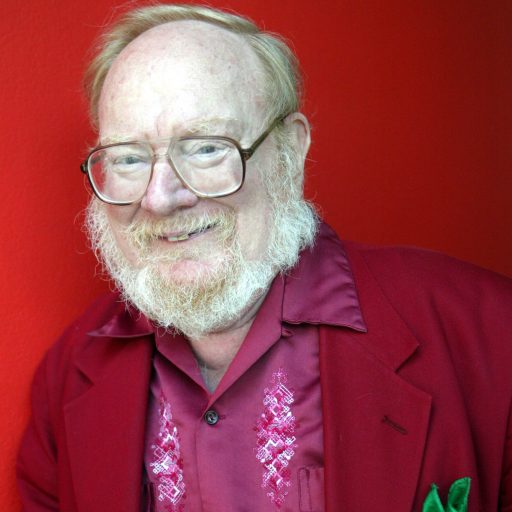 John Eaton
(March 30, 1935 – December 2, 2015)
Honorary Member Since 2013

JOHN EATON received international recognition for his works in the operatic genre, and as a composer and performer of electronic and microtonal music as well. Eaton's work has been performed extensively throughout the world. International performances include those in Italy (at the Venice Festival, Maggio Musicale Fiorentina, RAI, etc.), Germany (Hamburg Opera, NDR, Sud-West Funk, etc.), France, England, Spain, Portugal, Czechoslovakia (Prague Festival), Mexico, Peru, Brazil, Chile, Venezuela, Israel, Japan, Korea, China, Russia, Latvia and Estonia.

In America, his work has been performed by the San Francisco Opera, Cincinnati Symphony, Los Angeles Philharmonic, Santa Fe Opera, New York City Opera and Brooklyn Academy of Music, among others, and has been featured at the Tanglewood, Aspen, and Pepsico Summerfare Festivals. In addition, several works have been broadcast on Public Radio and Television, and his opera, Myshkin, was seen throughout the U.S.A. and foreign countries by an estimated 15,000,000 people. Among his best known works are his opera, The Cry of Clytaemnestra, which has received great public and critical acclaim at its nearly twenty performances, including those under the auspices of the San Francisco Opera, Brooklyn Academy of Music, and Bolshoi Hall of the Moscow Conservatory.

The Lion and Androcles, written especially for children, was shown on national television and taken on tour by the Cincinnati Symphony. The Tempest was called a "formidible intellectual as well as musical achievement ... an opera of stark beauty" by Michael Walsh of Time Magazine following its premiere by the Santa Fe Opera. His most recent grand opera, The Reverend Jim Jones, was commissioned by the National Endowment for the Arts. In 1993 he formed the Pocket Opera Players, which presented his operatic pieces Peer Gynt and Let's Get This Show on the Road to great public and critical acclaim, as was the case in 1996, when it premiered Don Quixote and Golk as well.On May 30th, 1997, Boston Musica Viva premiered his Travelling with Gulliver, commissioned by them and made possible by a grant from the Fromm Music Foundation. A new opera, Antigone, was added to it in very successful performances in Chicago by his opera company on Dec.9th, 10th, and 11th, 1999. In 2000, his provocative opera Youth was premiered. After it's first performances at Symphony Space, May 21st and 22nd, 2002, Anne Midgette of The New York Times called "inasmuch…" "creative, antic, quirky and enchanting." Further New York premieres of Travelling with Gulliver and Golk as well as the World Premiere of Salome's Flea Circus were done on June 23rd and 24th of 2003.

A festival of his music occurred at the Tribeca Performing Arts Center on May 18th and 19th of 2004, featuring the World Premiere of Pinocchio and the New York Premiere of Antigone, as well as panels on The Acting Instrumentalist: Eaton's Pocket Operas and Eaton's Contributions to Electronic Music. His full length comic opera Pumped Fiction, premiered at Symphony Space on June 20th, 2007, was repeated by popular demand on Sept. 6th. Allan Kozinn spoke of it as a "…considerable achievement" in the New York Times. Eaton has been the recipient of many awards. In 1990, he received the "genius" award from the MacArthur Foundation. His music was chosen to represent the U.S.A. in 1970 at the International Rostrum of Composers (UNESCO).

He has received a citation and award from the National Institute of Arts and Letters, three Prix de Rome Grants, two Guggenheim Fellowships, and, among others, commissions from the Fromm and Koussevitsky Foundations and the Corporation for Public Broadcasting. He has lectured at the Salzburg Center of American Studies, and was Composer in Residence at the American Academy in Rome. In September, 2000 his career was celebrated in the American Music Center's web site and excerpts of his operas can still be seen as well as an extended interview in the archives of www.newmusicbox.org for Sept., 2000.
He has done a lecture tour for Phi Beta Kappa as well as lecturing on his operas at Oxford. Eaton was Professor Emeritus of Music Composition at the University of Chicago. He taught there for 10 years and at Indiana University (Bloomington) for 20. His compositions are published by Shawnee Press, Schirmer (A.M.P.), and American Composers Edition.

In 2015, the New York Composers Circle changed the name of its annual composers competition in his honor. It has since been recognized as the John Eaton Memorial Competition.