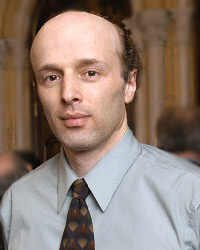 Andrey Komanetsky

[ INACTIVE ]
2017 Winner John Eaton Memorial Competiton

ANDREY KOMANETSKY was born in Moscow, Russia in 1965. He received a Bachelor's degree in piano performance (studied with Nina Svetlanova), and Master's degree in composition (studied with  Nils Vigeland) from Manhattan School of Music (NY). He is the first-prize winner of the 2005 International Composition Competition for Piano Trio (Austria).  His winning work Affinity to Movement was designated by the judging panel to be the compulsory piece, alongside a piano trio of Franz Schubert, for the participants in the piano trio category of the 6th International Competition "Franz Schubert und die Musik der Moderne" (Austria).  It was performed in the Kammermusiksaal, and the Stefaniensaal at the Graz Convention Center in Austria in February 2006.  Affinity to Movement received its world premiere in the Embassy of Japan in Belgium in January 2006. Affinity to Movement was also chosen to be published in the annual series SCI Journal of Music Scores.  His 11 Preludes for Piano Trio received a composition prize by "Anima Mundi" piano trio from Australia and was performed in 2011 in Melbourne. His one act opera "Bobok" received BMO Mainstage Award in the Contemporary American Festival Composers' Competition. Opera "Bobok" had its first performance by Thomson Street Opera Company in Louisville Kentucky in June 2013.

Mr. Komanetsky has had numerous collections of piano solo pieces published by the Willis Music Company (KY), distributed by Hal Leonard International Corporation and The FJH Music Company Inc.  His pedagogic compositions are hailed by the Music Teachers National Association as "…substantive and realistic challenges that promote musical and technical growth…evoke some of the most effective pedagogical works of Bartok and Kabalevsky…".

Mr. Komanetsky is also an active pianist, performing frequently in concerts in the tri-state areas of NY, NJ, and CT.  He was the artistic director and pianist-in-residence of the Telesis Contemporary Ensemble (NYC) from 2000 to 2002.  He is the music director, organist, and choir director at the Roman Catholic Church of Saint John in the Bronx, NY.

He has been on the music faculty of Amadeus Conservatory, Chappaqua, NY since 2004, teaching piano, music theory and composition.