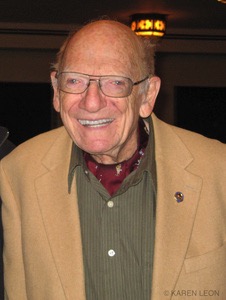 Andrey Komanetsky
(July 24, 1922 – April 30, 2014)
Member from 2011-2014

Born in Brooklyn in 1922, Leo Kraft was a composer, educator, and author of numerous books on music theory. He composed for orchestra, chamber ensemble, piano, voice, band, and electronics. His major compositions include "Inventions and Airs," "Variations for Orchestra," "For Those We Loved," "Testimonium," and "Seven Hebrew Songs." In 1995, his "Symphony in One Movement" was performed by the American Composers Orchestra in Carnegie Hall. His music has been recorded for CRI, Capstone, Albany, Centaur, and Arizona University Recordings. Kraft was a founding member of the College Music Society, the American Society of University Composers (now the Society of Composers, Inc.), and the Society of Music Theory. He was past president of the American Music Center, professor emeritus of the Aaron Copland School of Music at Queens College, and a member of the Advisory Committee of the League of Composers/International Society for Contemporary Music. A longtime resident of Great Neck, Kraft has also written for and had works performed by the Florilegium Chamber Choir, the Geigen String Orchestra of Tokyo, the Cincinnati Orchestra, and the Contemporary Chamber Ensemble of New York University, among others. He was an active member of NYCC until his death in 2014.