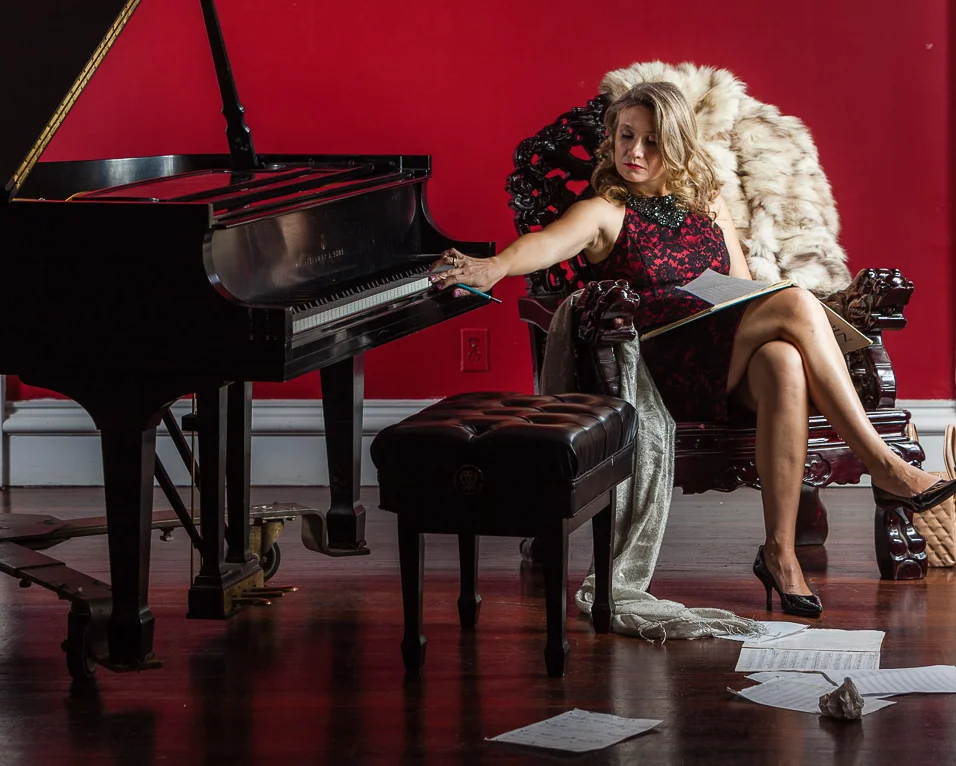 Nina Siniakova

Member since 2011

Nina Siniakova is active as a composer, pianist, and producer. A Doctor of Musical Arts, she received her education at Minsk Glinka Music College, St-Petersburg State Rimsky-Korsakov Conservatory and Musikhochschule Cologne. Beside music she also studied acting professionally.
​
Siniakova is a winner of the Petrov Symphony Music Composers' Competition in St.Petersburg, Russia, where her Concerto for Two Violins and Orchestra received First price and People's Choice Award. Other rewards include Special Stipend of The Industrial Building Bank St. Petersburg (as one of the best conservatory's students), Grant of the St. Petersburg government "Muses of St. Petersburg" and a Stipend of DAAD (German Foreign Exchange Service). She is a winner of a Melodia Women's Choir NYC commission competition. In the season 2014/2015, she was a composer-in-residence at Flushing Town Hall, Queens through Exploring The Metropolis program NYC.
​
Nina Siniakova's music has been constantly performed in East and West Europe, Japan, and in the United States. Her compositions have been featured at St.Petersburg Philharmonic, Carnegie Hall Weill Recital hall, Symphony Space New York, Harvard University, Flushing Town Hall , WQXR New York radio station, as well as Saint-Petersburg State Rimsky-Korsakov, Moscow Tchaikovsky and Belarus Conservatory a Articles about Siniakova's music have been written by musicologists in Russia and Belarus. Her music is published at "Compozitor" (St-Petersburg) and "FourFourth" (Minsk).

List of works includes music for orchestra (Symphony "Nimmergekommener", "Traveler"), Concerto for Harp and Fifteen Strings, ballets "Overcoat", "Dreams At the Sea", numerous chamber works, compositions for choir, voice, solo instruments, plays, documentary, music for jazz ensembles, and for children.

As a pianist, Nina Siniakova has performed at such venues as Chamber Music Hall of St- Petersburg Philharmonic, Moscow Conservatory, Beethoven-Haus Bonn, the United Nations, Harvard University, Symphony Space, St-Peter's Church and Zink Jazz Club in New York, Webster's Concert Series in New Hampshire. Nina Siniakova is known for her energetic appearances and profound understanding of music, which make her performances and compositions unique and impressive. Her repertoire includes baroque, classical, contemporary, and jazz compositions. Siniakova's performances inspired distinguished Russian composers Boris Tischenko and Gennady Banschikov to write and dedicate their piano pieces to her. An eager chamber music player, Nina Siniakova has collaborated with internationally acclaimed performers, including concertmeister of NYC Ballet, violinist Arturo Delmoni, soloist of Metropolitan Opera mezzo-soprano Oksana Volkova, members of Cologne Opera House Danuta Bernoliak and Piotr Wnukowski.

Gifted public speaker, Siniakova has given talks, masterclasses and presentations at New York University, Tufts University, Ocean County College in New Jersey and St- Petersburg State Rimsky-Korsakov Conservatory. She has hosted numerous concerts and conferences.
​
Talented accompanist, Nina Siniakova has worked as a pianist at Cologne Academy of Music and Dance, New York City Ballet, Juilliard School and Pennsylvania Ballet in Philadelphia.
​
Founder of Metis Concert Series, she presented her first project "Have A Very Jazzy Christmas!" at Carnegie Hall in December 2013.