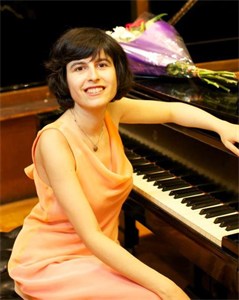 Nataliya Medvedovskaya

Member since 2005
Personal website: https://nataliyamedvedovskaya.instantencore.com/web/home.aspx

NATALIYA MEDVEDOVSKAYA, a composer and pianist, was born in 1974 in Saint Petersburg. She graduated with a double major from the Saint Petersburg Conservatory, where her composition teacher was Sergei Slonimsky and her piano teacher was Tatyana Kravchenko. She received both of her diplomas at the International Piano Competition "Young Virtuosi" (1989, Czech Republic), one of them given for "culture of performance, musicality, and deep understanding of music," and was the first prize winner at the International Composers' Competition of the German musical society "Gartow" (1995, Saint-Petersburg).

Since 2003 she has been living in New York. This summer she became a writer member of ASCAP. Her String Quartet No. 1 was performed by the Saint Petersburg String Quartet in various American cities. In 2005 this piece was performed at the Music Mountain Summer Festival and was broadcast by WQXR and other stations. The quartet received glowing reviews in the Los Angeles Times and the Washington Post. In 2004 Nataliya wrote music for the American movie "I will avenge you, Iago!". She won second prize in the composition category at the International Competition "Golden Channukia" (2005, Berlin). She performed as an ensemblist at Weill Recital Hall during the summer of 2005, and also gave a solo recital dedicated to the 250th anniversary of Mozart's birth at the New York Public Library in the Bronx during July, 2006. Recently she and the mezzo-soprano Svetlana Furdui recorded a CD of Rachmaninoff songs that will be coming out in the fall of 2006. She is now recording her piano solo CD of the Mozart program, as well as a CD of her own compositions.