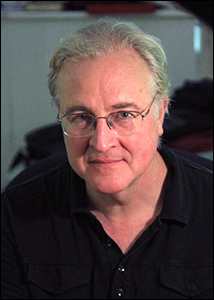 Paul Moravec
(b. November 2, 1947 in Buffalo, New York)
Honorary Member Since 2005

PAUL MORAVEC, winner of the 2004 Pulitzer Prize in Music, has composed over one hundred orchestral, chamber, choral, lyric, film, and electro-acoustic compositions. His music has been described as "tuneful, ebullient and wonderfully energetic" (San Francisco Chronicle), "riveting and fascinating" (NPR), and "assured, virtuosic" (Wall Street Journal). The New York Times recently praised his quartet, Vince & Jan: 1945, with, "This masterly miniature conveyed warm nostalgia, buoyant swing and wartime unease."

He is University Professor at Adelphi University and recently also served as the Artist-in-Residence with the Institute for Advanced Study. Both positions are unique to their respective institutions.

Mr. Moravec's first opera, The Letter, commissioned by the Santa Fe Opera, with libretto by Terry Teachout, premiered in 2009. Also in the 2008-9 season, his evening-length oratorio, The Blizzard Voices, about the Great Plains blizzard of 1888, with text by Ted Kooser, was premiered by Opera Omaha, and his Brandenburg Gate was premiered by the Orpheus Chamber Orchestra at Carnegie Hall.

Among Paul Moravec's numerous awards are the Rome Prize Fellowship from the American Academy in Rome, a Fellowship in Music Composition from the National Endowment for the Arts, a Rockefeller Foundation Fellowship, a Camargo Foundation Residency Fellowship, two fellowships from the American Academy of Arts & Letters, as well as many commissions. A graduate of Harvard University and Columbia University, he has taught at Harvard, Columbia, Dartmouth, and Hunter College, as well as Adelphi University.

Mr. Moravec is regularly sought out by leading performing artists and ensembles. Recent performance highlights include Songs of Love and War with the Oratorio Society of New York at Carnegie Hall, The Time Gallery at the Kennedy Center in Washington, DC, and Tempest Fantasy with the Chamber Music Society of Lincoln Center. Recent world premieres include Anniversary Dances with the Ying Quartet; Atmosfera a Villa Aurelia with the Lark Quartet; Mark Twain Sez with cellist Matt Haimovitz; Cornopean Airs with the American Brass Quintet; The Time Gallery with eighth blackbird at the Metropolitan Museum of Art; Morph with the String Orchestra of New York (SONYC); Cool Fire and Chamber Symphony for the Bridgehampton Chamber Music Festival; Capital Unknowns for the Albany Symphony; Everyone Sang for Troy Cook and the Marilyn Horne Foundation; Parables for the New York Festival of Song, Vita Brevis, a song cycle for tenor Paul Sperry; Useful Knowledge, a cantata commissioned by the American Philosophical Society for Ben Franklin's tercentenary; No Words, commissioned by Concert Artist Guild for pianist James Lent and the Gay Gotham Chorus; and two works for the Elements String Quartet.

Paul Moravec's discography includes Tempest Fantasy, performed by Trio Solisti with clarinetist David Krakauer, on Naxos American Classics; The Time Gallery, performed by eighth blackbird also on Naxos; Cool Fire, with the Bridgehampton Chamber Festival on Naxos; Songs of Love and War for Chorus and Orchestra on a CD featuring The Dessoff Choirs & Orchestra; Sonata for Violin and Piano performed by the Bachmann/Klibonoff Duo for BMG/RCA Red Seal; Double Action, Evermore, and Ariel Fantasy, performed by the Bachmann/Klibonoff Duo on an Endeavour Classics CD entitled "The Red Violin."; Atmosfera a Villa Aurelia and Vince & Jan , performed by the Lark Quartet on an Endeavour Classics CD entitled "Klap Ur Handz"; Morph, performed by the String Orchestra of New York on an Albany disc, Spiritdance, an orchestral work on the Vienna Modern Masters label; an album of chamber compositions titled Circular Dreams on CRI; and Vita Brevis, with Paul Sperry, tenor, and the composer at the piano, on Albany Records.