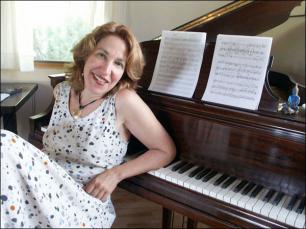 Debra Kaye

Member since 2002
Former Executive Director (2003-2006)
Personal website: https://www.debrakayecomposer.com

DEBRA KAYE (composer/pianist) has received grants and commissions from Meet the Composer, the Fort Wayne Children's Choir, the Atlanta Music Teachers' Association, the New School for Social Research, Mannes College of Music, as well as from individual performers. Ms. Kaye studied both piano and composition (Bruce Hungerford and Edith Oppens; Ruth Schonthal and Todd Brief), and earned a B.M. from Mannes College of Music, and an M.A. from New York University. Additional studies in jazz and Dalcroze Euryhthmics influence her music. Her original score for The Ugly Duckling received favorable notice from the New York Times in an extended run and the show is scheduled to run again in Fall 2004 at the Y.W.C.A. (53rd and Lexington Ave.) Ms. Kaye has been on the faculty of the Mannes College of Music Preparatory Division since 1991.