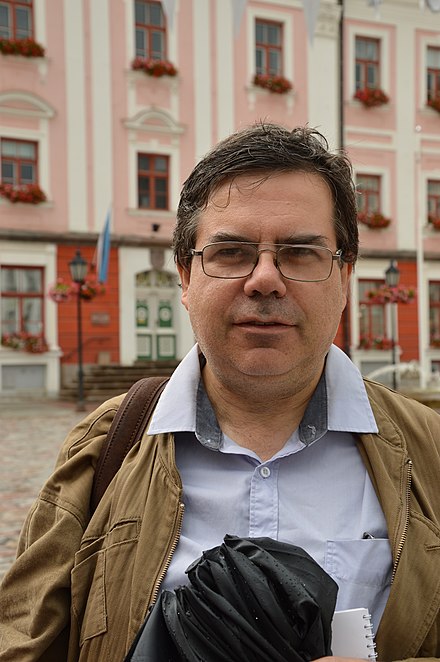 Anton Rovner

Member since 2019

ANTON ROVNER (Russian Антон Аркадьевич Ровнер; transcription Anton Arkadyevitch Rowner; born June 28, 1970 in Moscow ) is a Russian -born American composer, music critic and music theorist.

Rovner was born in 1970 as son of the writer Arkady Rovner in Russia in 1974 and emigrated with his family to the United States.

He studied piano at the Manhattan School of Music and composition with Andrew Thomas and Milton Babbitt at the Juilliard School ( Master 1993) and from 1994 to 1997 with Charles Wuorinen at Rutgers University, where he earned his Ph.D. made. In addition, he studied composition with Eric Ewazen within the Esther Wood Music Festival for two years music theory with Joseph Dubiel at Columbia University and at Vladimir Tarnopolski and Tristan Murail. From 1989 to 1990 he received a scholarship to the Moscow Conservatory with Nikolai Sidelnikov and Yuri Kholopov. His thesis was about the composer Sergei Protopopov. In 1998 he attended the Darmstadt Summer Courses.

From 1992 to 1997 he was artistic director of the Bridge Contemporary Music Series at Lincoln Center, in which he invited Russian, European and American composers. He advises the Composers Concordance in New York and is a member of the American Music Center and the Composers Guild of New Jersey. He also organized several concerts in St. Petersburg and Moscow.

His works have been played in Russia, Ukraine, Italy, South Korea, Moldova, France, Romania, Switzerland and the USA. In 2005 he was guest composer at the Visby International Centre for Composers in Sweden. He is also active as a music critic, among other things Muzykal'naja akademija, Musica Ukrainica online magazine and the 21st Century Music Magazine. For the latter, music magazine, he conducted interviews with composers such as Jean -Luc Darbellay, Tristan Murail and Alvin Lucier. In addition, he was there as a journalist at the ISCM World Music Days 2000 and several times at the Dresden Festival of Contemporary Music.

Since 1997 he lives in Moscow, where he joined the faculty of music theory and music history at the Conservatory as a teacher at the Institute for Interdisciplinary Musicology (Professor Valentina Cholopowa).