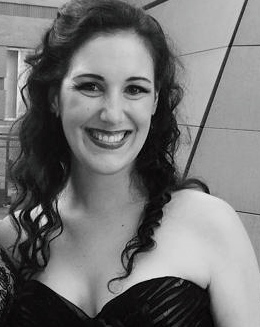 Tiffany DuMouchelle

Soprano voice

Personal website: 
www.tiffanydumouchelle.com
See Also: www.tonalcentertrio.com
Email: tiffanydumouchelle@tiffanydumouchelle.com

"Tiffany DuMouchelle supplied a gorgeous, wondrously expressive soprano"
-response to Brett Dean's, And once I played Ophelia
Scott Cantrell, The Dallas Morning News, 28 February, 2015
"soprano Tiffany DuMouchelle was riveting"
-response to Brett Dean's, And once I played Ophelia
Gregory Sullivan Isaacs, Theater Jones, 4 March, 2015

Soprano, Tiffany Du Mouchelle is praised for her musical versatility, an electric stage presence and exceptional dramatic sensibilities. Most recognized for her fearlessness in exploring new and challenging repertoire, she ushers the voice into new realms of expressivity, including a vast array of musical styles and languages, featuring over 100 different languages, and exploring the genres of classical, world, contemporary, cabaret, and theatrical works.

Recipient of the prestigious Richard F. Gold Career Grant for American Opera Singers, Du Mouchelle has performed with the Chamber Music Society of Lincoln Center, Bang on a Can All-Stars, Center for Contemporary Opera, Yellow Barn Music Festival, Skalholt Summer Music Series in Iceland, June in Buffalo Festival, Norfolk Chamber Music Festival, and American Composers Alliance, and in such prestigious venues as Lincoln Center, Disney Hall, The Consulate of the Republic of Poland, The New York Historical Society, The Ukrainian Institute, the residence of the United States Ambassador in Cairo, and the Acropolium in Carthage. Recent projects and collaborations include performances of Ana Sokolovich's Love Songs (an unaccompanied operatic monodrama in 100 languages), the MODERN PREMIERE of Seckendorff's Proserpina with New York Baroque, Inc., the WORLD PREMIERE of Paul Botelho's electro-acoustical mono-opera Proserpina, the AUSTRALIAN PREMIERE of Stockhausen's "Sirius" with Bendigo International Festival of Exploratory Music, the WEST COAST PREMIERE of Roger Reynolds' "Justice" (Clytemnestra), the WEST COAST PREMIERE of Pasqual Dusapin's "To Be Sung" (Voice Two), along with residencies at Yellow Barn and Songfest. An active chamber musician, she is the co-founder of Aurora Borealis, a voice and percussion duo with Stephen Solook. They frequently commission and perform new works, expanding the repertoire for this unusual combination.

A collaborator with the cultural diplomacy organization Cultures in Harmony, she has served as an instructor of voice, musical outreach specialist, and performer for projects in Cameroon, Tunisia, Egypt and Papua New Guinea. In fall 2015, Du Mouchelle moved to Buffalo, NY, joining the faculty at University at Buffalo, where she serves as Director of Vocal Performance and Opera Studio and leads the experimental voice ensemble, Polyglot.