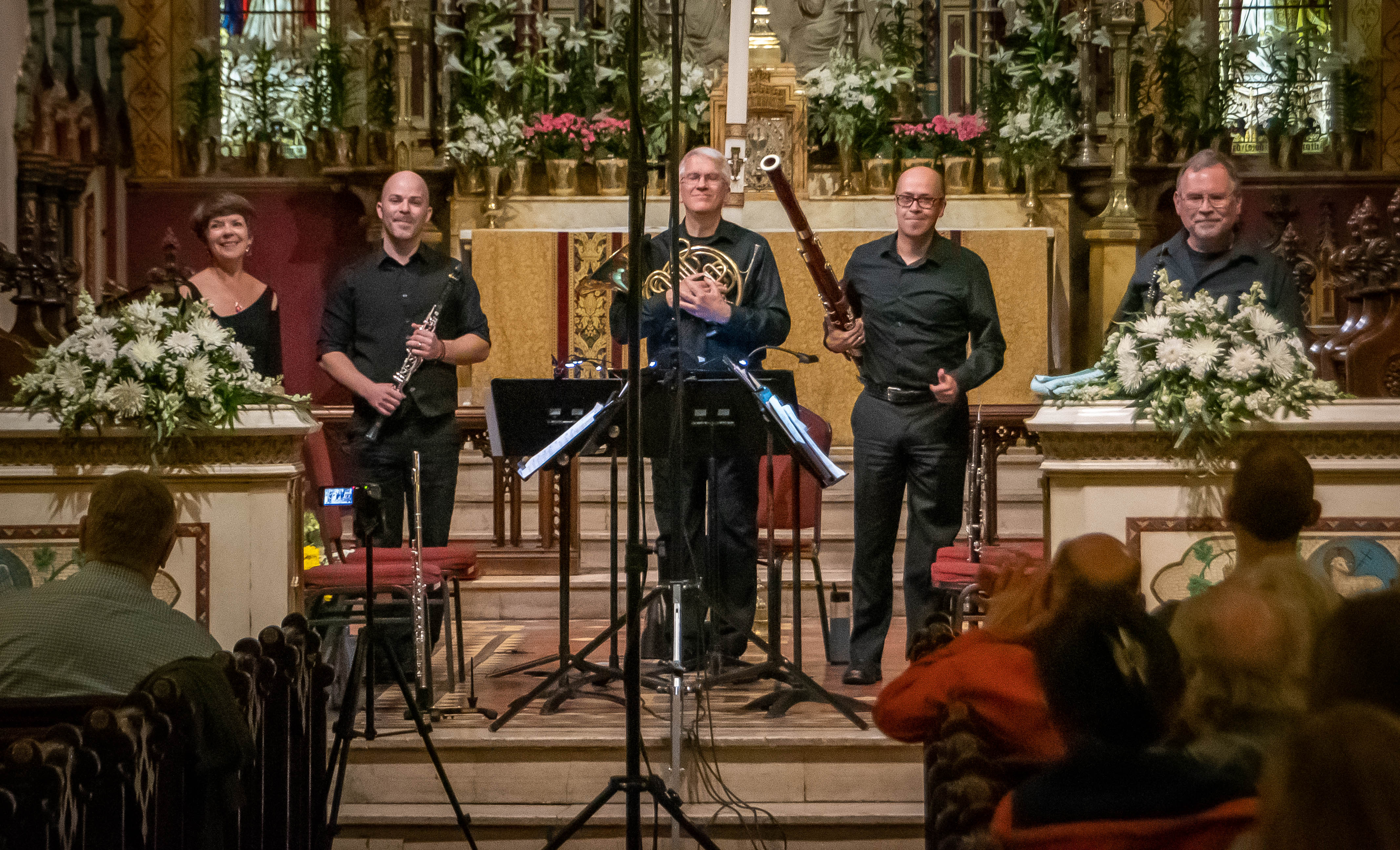 Sunderman Wind Quintet

The Sunderman Wind Quintet made their NYCC debut in April 2019 on a concert arranged by composer member Robert Cohen:

Tuesday, April 23, 2019
SUNDERMAN WIND QUINTET plays NEW YORK COMPOSERS CIRCLE
"Little Church Around the Corner" Church of the Transfiguration

"Movement for Woodwind Quintet" by Paul Aljian
"Ahab" by David Mecionis
"Woodwind Quintet No.1: Twist" by William Price
— BAMA/NYCC Composer Exchange Program
"The Callithumpian Duck: or the Misadventures of Oldsquaw" Timothy Lee Miller
"Filaments" by Catherine Neville
"Under Blood Moon" by Robert S. Cohen


Since 2005, the Sunderman Wind Quintet has been the resident faculty ensemble at the Sunderman Conservatory of Music at Gettysburg College. The quintet is active in presenting concerts, clinics, and symposia, captivating audiences with their rich tone quality and innovative programming. Performances have included regular appearances on the Sunderman Conservatory of Music recital series, the Musselman Library Notes at Noon series, and 'Music, Gettysburg!'. They can be heard on concert tours throughout the East Coast and are frequent guests of NAfME regional and state conferences.

The quintet performs an eclectic mix of repertoire that audiences find most appealing and is eager to promote new compositions. In April 2019, the Sunderman Wind Quintet presented a program of new music for wind quintet for the NY Composers Circle in New York City and has premiered compositions by John Steinmetz, Cecilia McDowall, Robert Cohen, John W. Jones and Libby Larsen. We have a great interest in mentoring young composers who are learning to write music for wind quintet. Education is also a major aspect of the SWQ mission. In addition to collaborations with students at Gettysburg College, the SWQ frequently performs at high schools throughout the Mid-Atlantic region; coaching chamber groups, working in sectional settings, and in classes.

In 2018, the Sunderman Wind Quintet released its first CD, Five as One, on the Bel Canto label, featuring the premiere recordings of four new compositions for wind quintet.