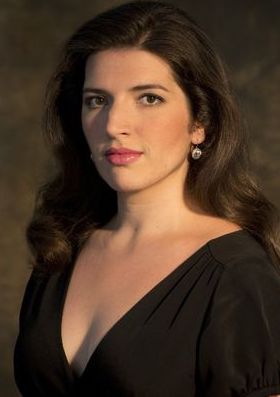 Sofia Dimitrova

Soprano voice

Personal website: www.sofiadimitrova.com
Email: sofiad@mac.com

Born in Varna, Bulgaria, soprano SOFIA DIMITROVA currently makes her home in New York City where she enjoys a busy career exploring and performing a wide range of music – from rarely performed Baroque gems to today's living composers.

Highlights of past seasons include: a performance of contemporary music at Merkin Hall; the 'Coffee' Cantata by J.S. Bach (with the Musica Bella Orchestra); and the role of Nunzia in Caccini's La Liberazione di Ruggiero dal'isola d'Alcina, as well as the role of Sappho in Prismatic Production's show Love Stories. In 2005 Ms. Dimitrova was selected to perform at Carnegie Hall's Zankel Hall (under the direction of Ton Koopman) as part of the Carnegie Hall Professional Workshop.

Her opera roles include performances in both fully- and semi-staged works. In May of 2008 she sang the role of Venus in Venus & Adonis by John Blow. She has performed the title role in Dido & Æneas with Prismatic Productions; the characters of Sospecha and Calliope in a production of La Purpúra de la Rosa under the direction of Andrew Lawrence-King at the 2003 Amherst Early Music Festival; and the role of Damon in Handel's Acis & Galatea. She has also performed featured roles in productions of L'incoronazione di Poppea (Drusilla and Damigella), Il Pastor Fido (Mirtillo) and Triomphi with the New York Continuo Collective.

She has been an oratorio soloist in Handel's Messiah, Graun's Der Tod Jesu, and Saint-Saëns' Christmas Oratorio, Rutter's Requiem. She was also a soloist in Vivaldi's Gloria in a concert performed in Siena, Italy. As an advocate of new music, Ms. Dimitrova has performed and commissioned works by Paul Moravec, David Tcimpidis, Richard Russell, Thomas Addison, Raphael Fusco, Evan Lewis, Marilyn Bliss and Kevin McCarter.

Ms. Dimitrova has enjoyed a broadly international career, having performed in Italy, Switzerland, Portugal, Spain, the United States, and in her native Bulgaria. She has sung with The New York Continuo Collective, ARTEK, Musica Bella Orchestra among others. She's a founder of Ensemble Solaire with which she's performed in Concerts At One, Midtown Music Series, Stony Brook University and on the New York Early Music Series. As a performing member of the New York Composers Circle she has performed in NYU Engleman Hall, St' Peter's Church (Midtown Arts Common) and in Recorded Readings produced by the organization.

Ms. Dimitrova started her musical education at the age of five on violin. In 1999 she came to New York to study vocal performance at the Mannes College of Music, where she graduated summa cum laude in 2003. Her teachers include Amy Burton, Catherine Mazzone, Lois Winter and Jill Feldman.