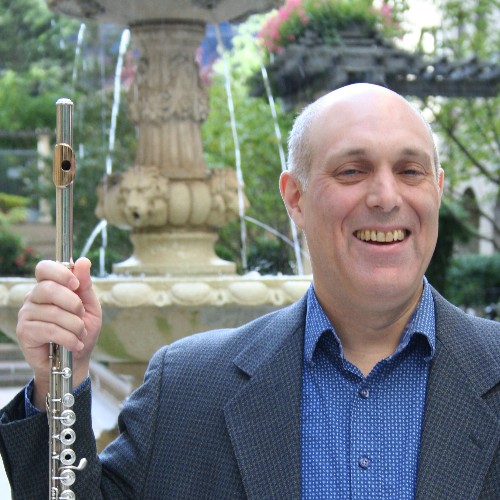 Michael Laderman

Flute

Personal website: www.fluteperformer.com
Email: m.a.laderman@gmail.com

MICHAEL LADERMAN is a New York-based recitalist, orchestral and chamber player, jazz musician, and recording artist.

He has performed on various concert series throughout the New York metropolitan area, including a debut recital at Weill Recital Hall at Carnegie Hall as a winner of the 1995 Artists International competition and performances at the 1996 and 2002 National Flute Association conventions; the 1995 New York Flute Club Flute Fair; the Settimana Musicale Senese at the Accademia Chigiana in Siena, Italy; twice at Merkin Hall in performances of the Stony Brook Contemporary Chamber Players; and at several festivals in New York City as a member of the medium-sized jazz band ZSound Collect. He has also performed at two New York Flute Club concerts at CAMI Hall, one as a winner of their Young Artists competition, and participated in a special New York Flute Club concert at the Stephen Wise Free Synagogue in New York in memory of the late Samuel Baron, his longtime teacher of blessed memory. He has even performed "Summertime" and some Malay children's songs with jazz improvisation in Malaysia.

In 1990, Laderman was awarded a Jacob K. Javits Memorial Fellowship, which paid for four years of graduate study, and provided additional grants for professional expenses. These grants enabled him to go to Europe and participate in master classes by some great European flutists, like Alain Marion, Philippe Pierlot, and Peter-Lukas Graf. In addition to Mr. Baron, Laderman has studied with Keith Underwood, Sandra Miller, Julius Baker, Thomas Nyfenger, and Trudy Kane.

Laderman is the author of "The Power of Omnipotens," (The Beethoven Journal, Vol. 13/2 [Winter 1998]), which addresses the structural, text-interpretive, and spiritual significance of Beethoven's setting of the "Pater Omnipotens" section of the Gloria in the Missa Solemnis.

Laderman is an Adjunct Professor of Music at the Preparatory Center for the Performing Arts at Brooklyn College and Polytechnic University in Downtown Brooklyn, New York. He has taught courses in flute performance, elements of music, music theory, music appreciation, intro to opera, jazz, world music, Southeast Asian music, the history of music technology, and the symphony, and coached chamber groups. He also teaches flute privately.

Laderman graduated from the High School of Performing Arts in New York as Valedictorian, received his Bachelor of Fine Arts in Flute Performance from SUNY at Purchase, summa cum laude, and earned Master of Music and Doctor of Musical Arts degrees in Flute Performance at SUNY at Stony Brook.