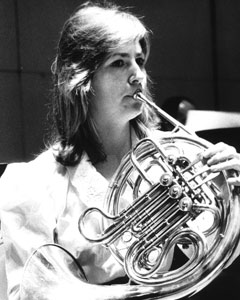 Lisa Pike

French Horn

Personal Website: http://www.bsmny.org/faculty/Lisa-Pike

"I fell in love with the sound of the French Horn when I was very little" says LISA PIKE of why she began to study the instrument at age eleven. After growing up in Connecticut, Lisa moved to New York to attend Manhattan School of Music.

"My approach to teaching is to always keep alive the joy of discovery. I aim for my students to have their musical studies complement their academic pursuits and to assist them in their learning process." Lisa enjoys teaching students of all ages and with younger children she will incorporate the teaching philosophies of Shinichi Suzuki. "With his beautiful spirit he taught young people how to learn and more importantly, he instilled in them how to be kind and become wonderful citizens of the world." She is open to teaching adults both on French Horn and as a chamber music coach.

Lisa enjoys performing in small and large ensembles. "I enjoy the flexibility that is required of myself as a player. Each setting offers different challenges which keeps me on my toes and thinking in many creative and alternative ways. It is exciting to search for new ways to express myself as a performer." Lisa includes Mozart, Brahms, Mahler, and Strauss among her favorite composers as "they all wrote beautiful music for hornists. But as a musician I'd also have to add Bach, Barber, Britten Beethoven, Copland, Debussy, Hindemith, Ravel, and Stravinksy. Of course great music, no matter what style or genre, is just that, great. When I hear terrific jazz artists or fantastic rock music I am just as inspired."

Lisa is also an avid gardener, reader, and devotes time to rescuing abandoned animals. "I'm also a floral designer and have obtained a professional certificate from the New York Botanical Garden."