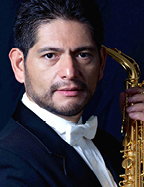 Javier Oviedo

Saxophone

Website: https://www.wcsu.edu/music/faculty/javier-oviedo/
Email: oviedoj@wcsu.edu

JAVIER OVIEDO has appeared with many orchestras in and around his native Texas including the Austin Symphony Orchestra the San Antonio Symphony and the New Jersey Symphony. As a founding member of the Elision Saxophone Quartet he has performed in a wide variety of venues from jazz festivals to concert stages all over the Southwestern United States. He has worked with such distinguished artists as Akira Endo, Zdenek Macal and Mitch Miller. Mr. Oviedo's studies include degrees (BM, MM) from the University of Texas at Austin and from the Mannes College of Music.