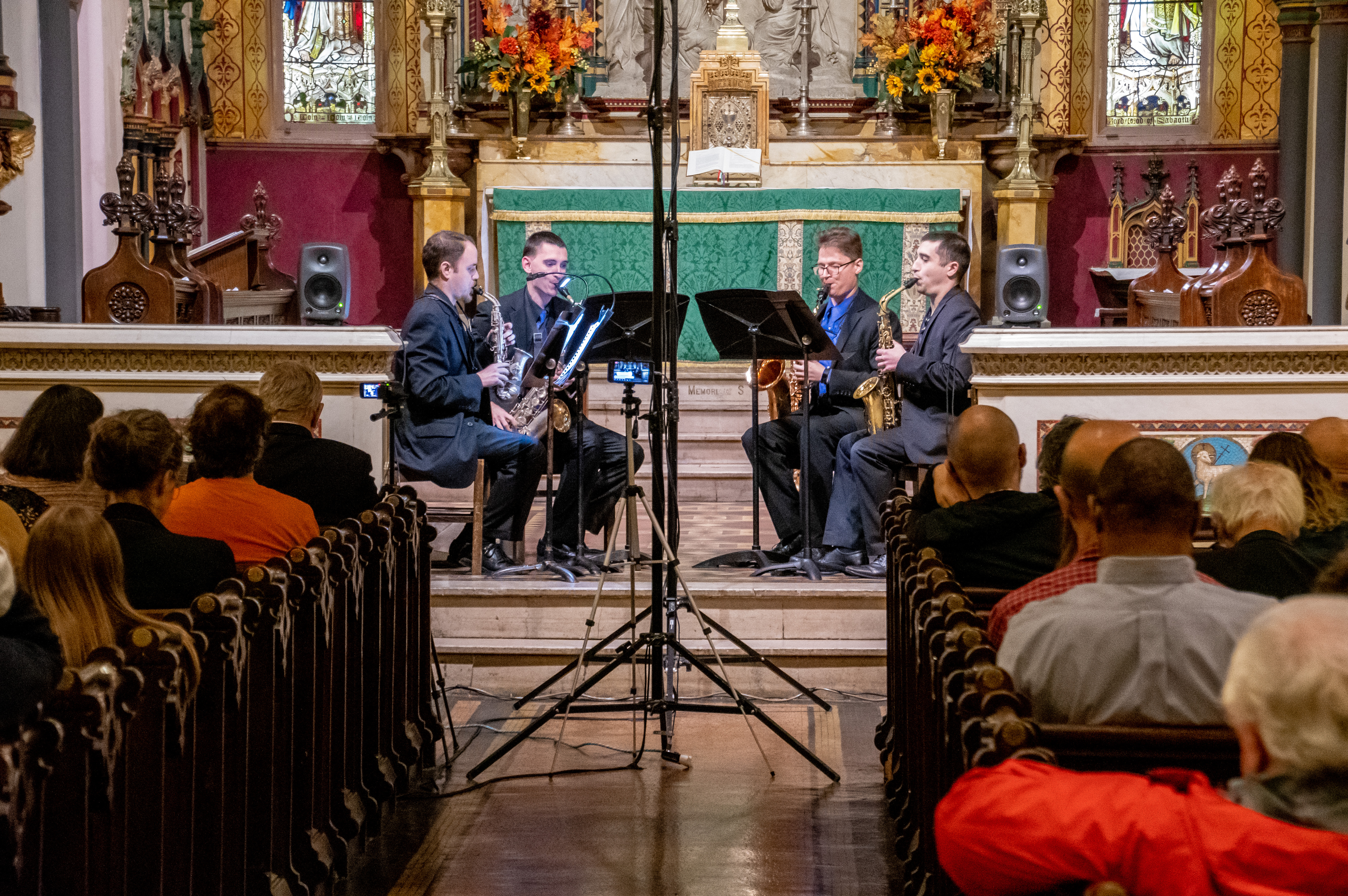 Cobalt Saxophone Quartet

The Cobalt Quartet made their NYCC debut in October 2019 with a performance of eight works bby member composers:

Wednesday, October 30, 2019 | COBALT SAXOPHONE QUARTET PLAYS NEW YORK COMPOSERS CIRCLE
"Little Church Around the Corner," Church of the Transfiguration

"Grand Quartet in E-flat Minor" for saxophone quartet by David Mecionis
"Three Madrigals for Saxophone Quartet" by Raoul Pleskow
"Amsterdam, 1983" for solo soprano saxophone by Christopher Sahar
"The Source of The Beat" for saxophone quartet by Eric Heilner
"Four-Play" for saxophone quartet by Richard Brooks
"Inharmonic Fantasy No. 11" for alto sax and electronics by Hubert Howe
"Dappled light 'mid mountains gleams" by Timothy Lee Miller
"Fantasy for Saxophones" for quartet by Bunny Beck


The New York metropolitan area-based Cobalt Quartet was born of a deep passion for exceptional music as well as a common vision for the saxophone quartet as a vehicle for the highest levels of artistry. The quartet is particularly interested in presenting modern compositions by living composers alongside the very best of the repertoire and lesser-known contemporary works, whether written originally for saxophone or transcribed. Since its founding in 2017, the ensemble has presented varied and exciting programs with several partners including: the Asian Women Composers Association of NYC, Concrete Timbre, Andrew Koss, the Megalopolis Saxophone Orchestra, the Long Island Composers Alliance, the New York Composers Circle, and the New Jersey Wind Symphony.