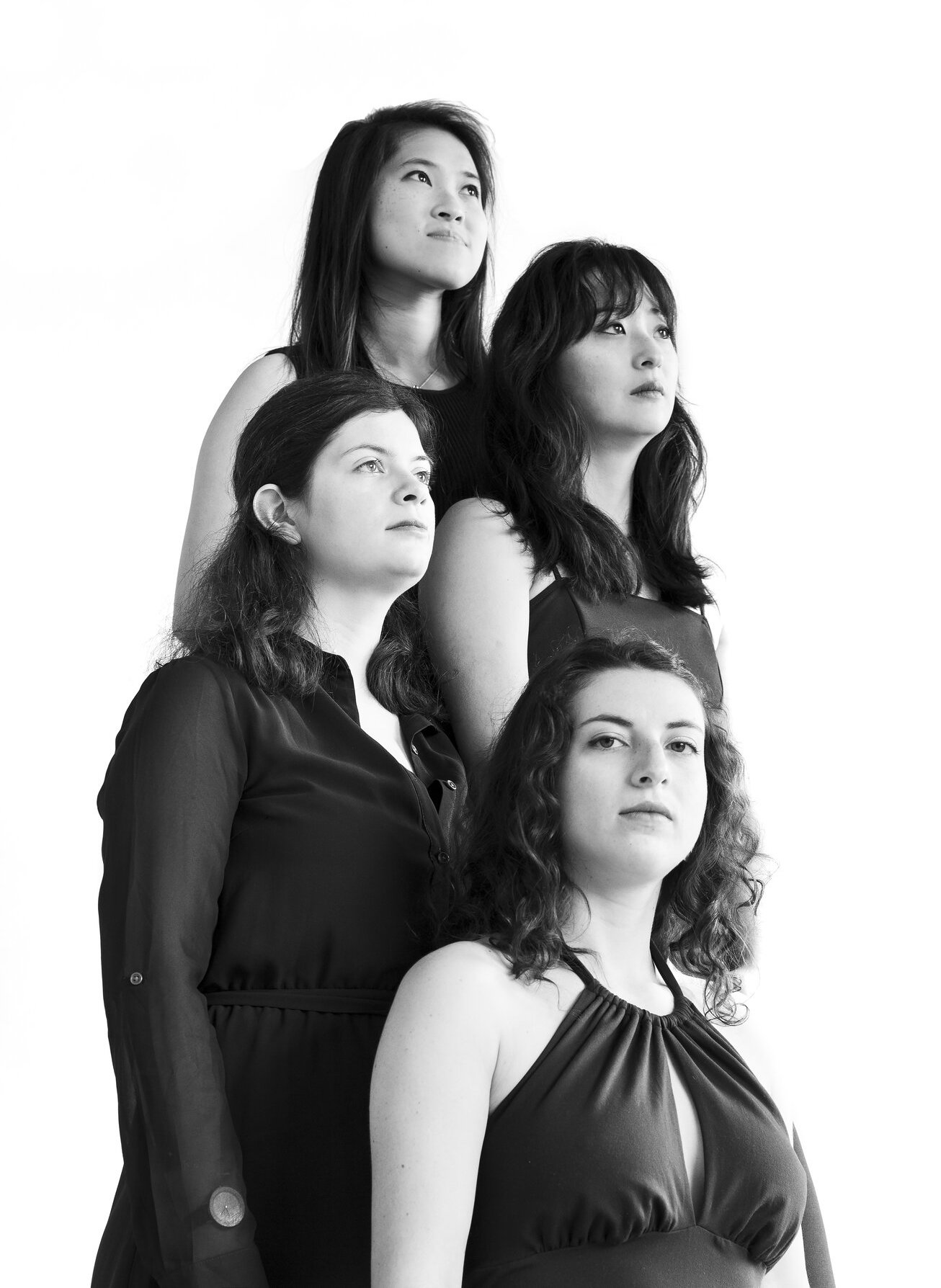 Bergamot Quartet

Bergamot Quartet made their NYCC debut appearance in April 2023 with the performance of two string quartets and a violin duet:

Thursday, April 13, 2023 | ROWING IN EDEN
Church of the Transfiguration, Little Church Around the Corner

"SQrt: Season 1, Episode 1" by Eric Heilner

"String Quartet, September 2021" by Carl Kanter

"Mercury's Shadow" by Christopher Kaufman
— Ledah Finck, violin; Sarah Thomas, violin


BERGAMOT QUARTET is fueled by a passion for exploring and advocating for the music of living composers, continually expanding the limits of the string quartet's rich tradition in western classical music. With a priority given to music by women, they aim to place this new, genre-bending music in meaningful dialogue with the histories that precede it with creative programming, community-oriented audience building, and frequent commissioning.

Bergamot values partnership and collaboration as a vital element of their creative work. Included in their 2023 season is a partnership with NYU's dance department, an appearance on the Ecstatic Music Series at Merkin Hall with Circuit des Yeux, an ongoing set of "Cross Quartets/Quintets" with composer Dan Trueman, and a new work to be composed for Bergamot and Latin jazz sextet by percussionist Samuel Torres. Highlights of their 2022 season were the release of their debut album, In The Brink, on New Focus Recordings featuring a work by member Ledah Finck with percussionist Terry Sweeney as guest artist, a co-commission of Darian Thomas with Sō Percussion as part of Sō's Flexible Commissions project, appearances at the NY City Center with NYC Ballet principal dancer Tiler Peck, performances at Lincoln Center and Carnegie Hall, and the participation at the Klangspuren Chamber Lab in Innsbruck.

In addition, Bergamot is particularly excited about helping young people discover their potential as music creators. Recent engagements include residencies at The Peabody Institute, Princeton University, Towson University, Peabody Institute's Junior Bach program, and MATA Jr.

Bergamot Quartet is Ledah Finck and Sarah Thomas, violins; Amy Tan, viola; and Irène Han, cello. Founded at the Peabody Institute in Baltimore in 2016, Bergamot Quartet is based in New York City and was the Graduate String Quartet in Residence at the Mannes School of Music for 2020-2022.