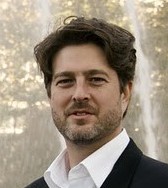 Arthur "Artie" Dibble

Violin, viola

Email: artiedibble@gmail.com

Juilliard-trained violist, violinist, and conductor ARTHUR DIBBLE enjoys a wonderful free-lance musician's life in New York City. Diverse styles of music have taken him all over the world, from touring with Barbra Streisand, Led Zeppelin, various string quartets and the St. Louis Symphony to right here at home on the major stages of New York City and the surrounding region with orchestras, chamber groups and Broadway stars. He is currently music director for his lovely wife, mezzo-soprano Sishel Claverie on theater/recitals projects. Seeking expression since his Juilliard days, Arthur collaborates regularly with living composers and participates in the Tonal Refraction Ensemble, exploring our "pre-conscious gut reactions to sounds themselves." Arthur enjoys teaching and performing for the Midori Foundation in NYC public schools. You can also often find him in recording studios during the day, Broadway show pits in the evenings, feeding his espresso obsession in a café, or traveling to see his son and daughter in college.