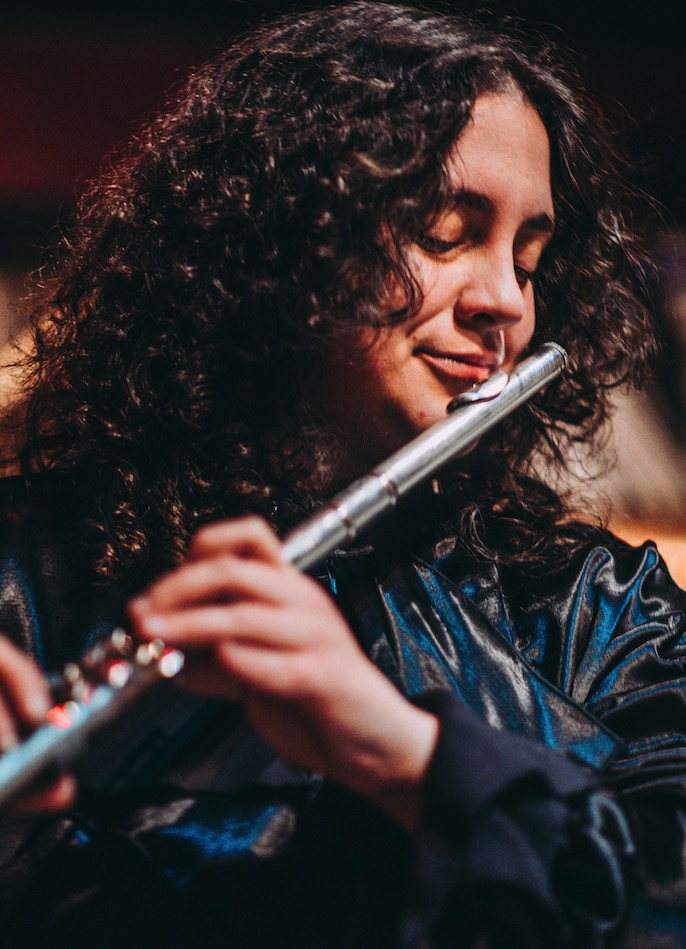 Ammon Swinbank

Flute

Personal website: https://ammonswinbank.com
Email: ammon.swinbank@gmail.com

An eclectic flutist and composer whose early music education came in the bunk of a semi-truck, AMMON SWINBANK can be heard playing contemporary classical, jazz, blues, rock, electroacoustic and freely improvised music. Ammon's life was forever changed after hearing Jimi Hendrix' Star Spangled Banner while bouncing along amber waves of grain miles away from home. Two months later, a flutist could be heard playing in the elementary school gymnasium and Ammon thought it sounded like an angel singing. Ammon was also deeply impacted by Tori Amos, Pink Floyd, Rasputina and Amalia Rodrigues. They spent the remainder of their school years in wind band or locked away in Thornton High School's only practice room.

Ammon's years as a budding professional were spent in Denver where they were a part of Railroad Street Jazz West and the flute choir of Metropolitan State University. They were also a guest of local band Still Light. In 2009 they had the opportunity to perform at Dazzle, premiering the works of local composers. With these groups, Ammon performed at celebrations, local venues such as Gypsy House and Mercury Café and once for the Fraternal Order of Eagles. They fell in love with many artists, including Miles Davis, Claude Debussy, Toru Takemitsu and Eric Dolphy. Ammon also began teaching beginning flutists while continuing to perform around Denver and writing their first flute solos: Chromatic Solo and Deep Freeze.

In 2014, Ammon received a Bachelor of Music in Flute Performance from Cornish College of the Arts. The same year, they performed as part of Hush at the Chapel Performance Space in Seattle. Compositions include Spectrum for flute solo and Prelude to the Midnight to a Moonflower for flute, cello and piano. Ammon also frequented Spite House and Café Racer, hungry to play as much as possible.

Ammon also holds two Master of Music degrees from New York University, Steinhardt—one in flute performance and the other in jazz studies. While attending NYU, they composed pieces such as The Apparition for flute, clarinet and electronics and jazz tunes such as Phantom Orchid and Lazy Sunday. In 2016, Ammon appeared as a part of the New York City Electroacoustic Music Festival, and in 2019 at the National Opera Center with the New York City Composer Circle. Ammon has also appeared at Spectrum, Scholes Street Studio, Loewe Theatre, and as band leader at Williamsburg Music Center.

Throughout their career, Ammon has performed with musicians from many walks of life. Some examples include Jovino Santos Neto, Farko Dosumov, Stephen Fandrich, Patricia Cardona, Blair Perry, Jeremy Vigil, Chris Kaminski, Gabe Terracciano and Benjamin Schnake. The pieces they have performed are equally diverse. Ammon is currently working on their jazz album, Big Apple Bonkers.