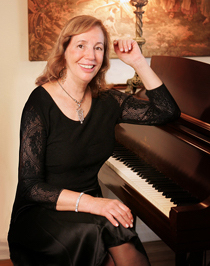 Bunny Beck
(1936-2021)
Member from 2018-2021

Composer, pianist, and recording artist BUNNY BECK was awarded a Master of Fine Arts degree in Music Composition from the Vermont College of Fine Arts where she studied primarily with Andy Jaffe, Roger Zahab and Rick Baitz. Bunny composes contemporary classical music and jazz. Her most recent works are jazz composition "Breathe", "Suite for Sarro" for string trio, "Fantasy for Saxophones" and "Two Rivers and An Ocean" for pitched and non-pitched percussion.

Her compositions have been performed by string players Jennifer Choi, Jessica Meyer and Andrew Yee, Saxophonists Ken Thompson, Peter Hess, Ed RosenBerg, Jay Rattman and Anna Webber, the Talujon percussion ensemble, as well as percussionist River Guerguerian, jazz drummer Vinnie Sperrazza, guitarists Jon Benthal and Ed MacEachen, and bassist Tom Hubbard among others.

Bunny graduated from the High School of Music and Art and SUNY Potsdam and as a teenager taught private piano students, both adults and children. Originally trained as a classical pianist starting at age 6, Bunny studied with a range of teachers and felt honored to have been the only child student of renowned concert pianist Selma Kramer. Some time later, Bunny sought out jazz mentors Lee Evans, Fernando Hernandez, and Harold Mabern. In 2002 Bunny had the unique opportunity to study and play in Cuba with Reinaldo Gomez Ruiz and his band, "Gens", and in 2013 studied in Rio de Janeiro and played jazz clubs there.

Until about 2005, although always keeping her fingers on the keys, so to speak, Bunny's professional career was in the non-music world, until she evolved into a full time jazz musician, and in 2010 PARMA Recordings released her album of jazz standards, "Sound Tapestries". Bunny's composing began primarily with jazz tunes and ballads. Her album "From the Spirit" featuring the Bunny Beck Jazz Ensemble was produced and released by PARMA Recordings in 2014. That album received a thoughtful and frankly wonderful review in Fanfare Magazine, November/December 2014 by Lynn Rene Bayley, along with a comprehensive interview of Bunny.

In 2015 she returned to Cuba to have her "Jazz Instrumental Suite" and "Jazz Vocal Suite" recorded in Havana by professional Cuban musicians. She composed the music for piano, and the compositions were then adapted by a music director for a seven piece jazz ensemble. The suites, consisting of three movements each, are on the PARMA Recordings album "Abrazo: The Havana Sessions" released 2016.

Bunny's composition for string trio "Suite for Sarro", was selected by the Birmingham Art Music Alliance to be performed by the BAMA Players at the Birmingham (Alabama) New Music Festival, October 2018. Bunny is a member of the New York Composers Circle, Chamber Music America, Local 802 AFM, ASCAP, and International Women in Jazz.